CognitiveGenesis is a 4-year study following 30,000 students enrolled in Adventist schools across North America.
This groundbreaking and rigorous research, conducted by La Sierra University, is validating what parents, teachers, and students involved in Adventist education have known for years—that, on average, Adventist school students perform better.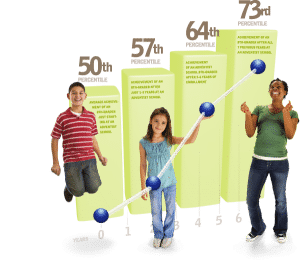 The longer children attend Adventist schools, the higher their average achievement.
Not only do students score a half-grade-level higher in all subjects on average, but the more years they attend an Adventist school, the more their average achievement jumps—up to the 73rd percentile.
Whether an Adventist school is big or small, children can achieve on a higher level there.
It doesn't matter how large or small the school is. It doesn't matter how many students there are, or the number of grades per teacher—or even how many grades are in one classroom together. Children achieve at the same high level—an average of half a grade above predicted in all subjects.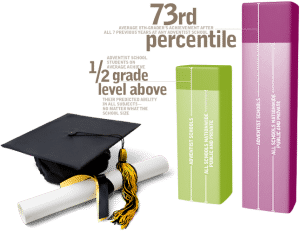 "Student achievement is above average and above prediction based on ability for students who attend Seventh-day Adventist schools in North America." —CognitiveGenesis Report, Year Two
Not only do students who attend Adventist schools achieve half a grade level higher in all subjects than predicted based on their ability scores, but they also gain the benefits of Adventist education shown by other research—strong spiritual lives and healthy lifestyle choices.
Absolutely! If you are a Christian, or even if you simply value the moral principles that Christianity espouses, you and your child will benefit thoroughly from an Adventist education.
The worldwide Adventist church has over 19 million members in countries around the world.
Seventh-day Adventists accept the Bible as their only creed and hold certain fundamental beliefs to be the teaching of the Holy Scriptures.